Wil Michael Wrenn was born in Charleston, MS. He has traveled across the United States and resided in several places, but he currently lives in the hills of eastern Tallahatchie County near Charleston which he considers home. He has a special feeling for the hills, hollows, and landscape of North Mississippi. He is especially fond of Enid Lake which he considers to be one of the most beautiful, tranquil places he has ever seen.

Wil Michael Wrenn has been writing since the age of twelve, first writing poems and then later lyrics and music. He bought a Sears guitar at age fifteen and taught himself to play it; he wanted to learn to play guitar so he could put music to his lyrics and then play and sing his songs.

Since then he has written hundreds of poems and songs, and he has had poems published in national and international anthologies and in magazines. Most recently, he had a poem about Enid Lake published in the Spring/Summer 2014 edition of Batesville The Magazine. He has also published a book of his original poetry entitled Songs of Solitude.

This website will also serve to feature Michael's recorded songs. Michael is a songwriter-member and publisher-member of the American Society of Composers, Authors, and Publishers (ASCAP), a national performing rights organization for songwriters.

When not writing, playing music, singing, or teaching, Michael enjoys family and friends, reading good books, movies, travel, listening to good music, sports, spirituality, and just being out in nature.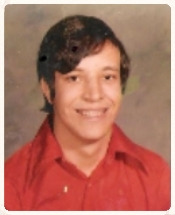 (In 2009)